Studio Visit | Carson Culp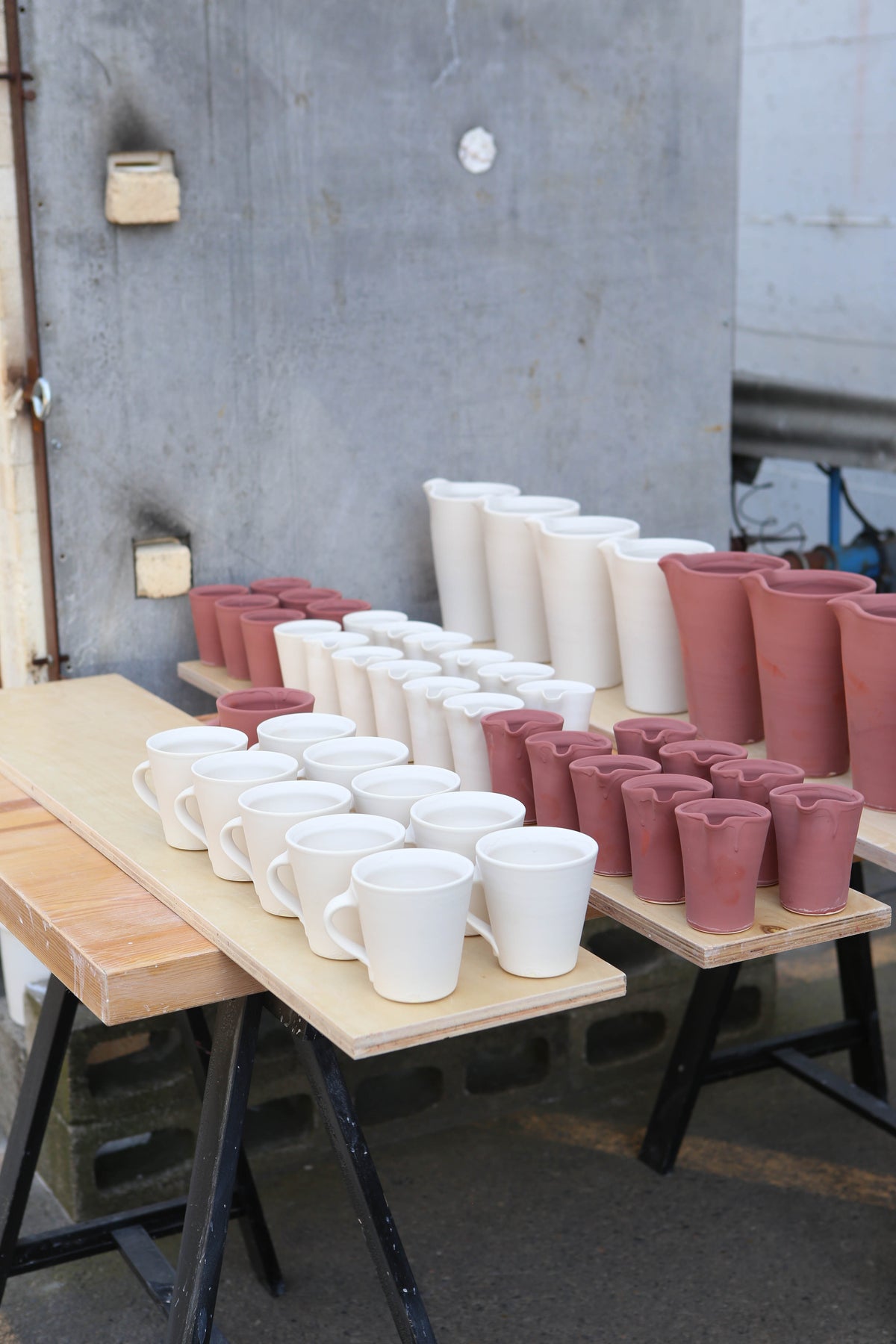 One morning in June, it was with immense joy that I hopped into my car and took a quick drive (one of many) into northeast Portland to meet at Carson Culp's studio. Located within an old industrial building, the background suited Carson's work — it was unassuming, organic, and incredibly alluring.
At this time, it was a little less than two weeks before the opening of our first exhibition together, 'Kohi,' and the reality of it all was starting to set in. Carson said he was "putting all (his) eggs in one basket" regarding the upcoming firing — nerves were high, but I assured him that we would have a fantastic event no matter the outcome.
I feel incredibly fortunate to have collaborated with him so closely throughout this process. From editing down the product list to selecting glaze pairings, by the end of it, we were incredibly aligned on the end goal. I feel honored to have been given the opportunity to partner with such a talented artist, so in tandem with the end of 'Kohi,' I wanted to shed light on his process and share more from my last visit.
Would you mind telling our readers a bit about how you got started in ceramics?
I started working with clay in High School like most die hard ceramic artists do. However, it wasn't until I finished high school that I started to take it seriously. Self-taught for about 3 years up until my apprenticeship at the Leach Pottery in Cornwall, England.
You've spent a good amount of time abroad attending artist residencies at renowned locations such as Leach Pottery and the Mashiko Museum for Ceramic Art. How did each opportunity influence your work? Did one resonate more than the other?
The Leach Pottery completely changed my work and the way I observe ceramic work. Rooted in Functionality and training some of the most renowned craftsman potters America has seen in the 20th century. Leach gave me the fundamentals of what my craftsmanship needed to excel in starting my own pottery. Mashiko was a 3 month residency immediately after my one year training at the leach. This allowed me to start to find my voice outside of being distracted ony by function, or the other Leach Potters. Heavily influenced by the town of Mashiko and the work of Mashiko potters, I did develop a repeated brushstroke pattern during my time there. This pattern, in my eyes, was a blend of the use of patterns I was taught at the leach by lead potter Roelof Uys, and the simple brushstroke that has been used in Mashiko by Tatsuzo Shimaoka, Shoji Hamada, and their grandsons.
What other influences play a role in your designs?
Patterns in nature play a large role in my decorative work. Ancient pottery plays a large role in some of my forms alongside modern approaches. Production throwing allows me to watch a form evolve from the first one put on a ware board to the last one completing a long row.
It's obvious the amount of love you have for single-brushwork patterns, glaze overlapping, and other various decorating techniques. How do you go about deciding the type of adornment you add to a piece? Is it carefully planned, or more of a carefree process?
Deciding what to decorate or glaze on a piece really is not up to me, it is up to the piece itself. I tend to ask questions in my head of what that form needs, deserves, would look its best in, and go from there.
The functionality, durability, and timelessness of your pieces were what originally drew me to your work. Would you say your work falls more on the side of art or craft? Aesthetic or function?
My work is constantly in practice and evolving. Recently the craftsmanship potter in me has been taking over, however, a fine craftsman, is a fine artist. My job is to combine aesthetic and function, or know that a piece with great function is a work of art.
What type of other passions and interests do you have beyond ceramics?
Good question; I am very passionate about self-discipline, which can be derived from my craft. Playing basketball is an obsessive hobby, board sports are supre fun but painful, and friends and family are very important.
We are coming up at the end of your first solo exhibition, 'Kohi', and we'd love to hear your takeaways on the opportunity of creating around the concept of coffee and tea, vs creating freely.
Creating work for this exhibition was fun and stressful. Only stressful because I am maybe too critical of my work and want it to be the best it can be. Fun because I have never made a body of work focused on a specific ritual like morning coffee can be. It started out with making about 20 random mugs, deciding which one I liked the most, and incorporating that form in everything else I made for the show. This show was probably the most cohesive body of work I have ever made exhibited in one space.
We want to know more about your creative process, walk us through it. How do you begin your projects? Do you sketch a shape, select a color scheme, or create on a whim?
My creative process starts at the wheel, throwing countless forms and glaze trials are my sketches. This often ends in more ugly pots than nice ones but always leads me down a new path of exploration.
Think of an object in your home that has the most significance to you. Could you share with us what it is and the memory behind it?
That is a tough one because I have so many. I would have to say an etched celadon vase given to me by a potter named Steve Kelly. Steve was the first potter I ever apprenticed with back when I was 18 years old. All of his work is so inspirational to me, I even have his chop along with every other place I have worked at tattooed on my leg.
What do you want people to take away from your brand? How do you want to be remembered? What is the legacy you imagine for your brand?
I think I'm gonna skip that one because my brand needs help hehehe sorry.
Lastly, where do you see your work heading in the future? Any exciting projects you are working on right now?
It's hard to say where I see my work heading, I think that's why I like clay so much because it almost takes me on this journey itself. Ofcourse I take turns here and there but allowing my work and my voice to evolve somewhat unconsciously is how I roll. Being born in Puerto Rico and living there in my teens I would love to return and set up a studio in front of a secluded surf break!! Trying to plan a show in Portland again before the end of the year along with a show at the end of January in North Carolina. This will be in conjunction with my residency at Township 10 with another Leach Potter Kat Wheeler.